The products are in accordance with Chinese national GB standards and the international IEC standards.
The company manufactures production of S11 - M series the whole sealing oil-immersed power transformer has the advantages of low loss, low noise, high efficiency, can obtain good energy saving effect and reduce pollution. Totally enclosed comparing with ordinary oil-immersed transformer, cancel the oil storage tank, the oil volume changed by corrugated tank elastic corrugated chips to automatically adjusting, transformer is isolated from the rest of the air, to prevent and slow the deterioration of oil and insulation aging, enhance the operation reliability.
Conditions of use
1. The highest temperature: + 40 ℃
2. The lowest temperature: -25 ℃
3. Altitude: < 4000 m
4. The highest monthly average relative humidity: 80% (20 ℃)
5. Installation location: without fire, explosion danger, serious foul, chemical corrosion, or violent vibration. Indoor And outdoor.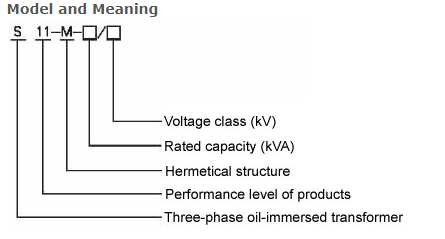 Product Standards
GB 1094 Power Transformer
GB/T 15164 Oil-immersed power transformer load guide
GB/T 6451 Three-phase oil-immersed power transformer technical parameters and requirements
IEC/60076
S11 type 6-11kV series main performance parameters of the products
Type
Rated capacity (KVA)
Connection symbol
Voltage combination (KV)
No-load losses(W)
Load losses(W)
No- load current (%)
Short-circuit impedance (%)
H.V
Tapping range
L.V
S11
30
Yyn0 or
Dyn11
6 6.3 10 10.5 11
±5% or ±2×2.5%
0.4
100
600
2.3
4.0
S11
50
130
870
2.0
S11
63
150
1040
1.9
S11
80
180
1250
1.9
S11
100
200
1500
1.8
S11
125
240
1800
1.7
S11
160
280
2200
1.6
S11
200
340
2600
1.5
S11
250
400
3050
1.4
S11
315
480
3650
1.4
S11
400
570
4300
1.3
S11
500
680
5100
1.2
S11
630
810
6200
1.1
4.5
S11
800
980
7500
1.0
S11
1000
1150
10300
1.0
S11
1250
1360
12800
0.9
S11
1600
1640
14500
0.8
S11
2000
2280
17820
0.6
5.0
S11
2500
2700
20700
0.6
S11 type 15-22 kv series main performance parameters of the products
Type
Rated capacity (KVA)
Connection symbol
Voltage combination(KV)
No-load losses(W)
Load losses(W)
No- load current(%)
Short-circuit impedance (%)
H.V
Tapping range
L.V
S11
30
Dyn11
15
20
22
±5% or ±2×2.5%
0.4
90
660
2.1
5.5
S11
50
130
960
2
S11
63
150
1145
1.9
S11
80
180
1370
1.8
S11
100
200
1650
1.6
S11
125
240
1980
1.5
S11
160
290
2420
1.4
S11
200
330
2860
1.3
S11
250
400
3350
1.2
S11
315
480
4010
1.1
S11
400
570
4730
1
S11
500
680
5660
1
S11
630
810
6820
0.9
6
S11
800
980
8250
1.8
S11
1000
1150
11330
0.7
S11
1250
1350
13200
0.7
S11
1600
1630
15950
0.6